Siv
Siv Freyja Weorðmyndum
Creature Type: Kinfolk
Tribe: Get of Fenris (Pure Breed 4)
Born: April 10, 1988
Mate: Gabriel Eden
Description
---
Siv is Gorgeous in an undeniably sultry way, and obviously aware of it. Dark red hair, striking blue/green eyes, pale skin, something about her draws your attention whenever she walks into a room. She has the look of a woman who can crook her finger and have any man she wants, and the slightly distant attitude of one who is used to others assuming that is exactly what she'll do.
She is most often seen dressed in black leather. Thick soled knee high boots, pants that cling to her curves, a sleeveless top that dips low. There are no lines beneath the leather, just skin.
Though she stands about 5'7, those boots look about 3 inches thick.
Gorgeous x4, Seductive x4, Intense x3
Family
---
Stefan, her first Mate was the last of his line, and is said to have fallen in a raid on the Jotun.
Now she belongs to Gabriel Eden.
Common Knowledge
---
After a year in mourning, it was decided that her talents would be best plied away from Broken Jaw, where no reminders of her loss would be found. When she arrived she carried a sealed message for the Jarl, explaining that she was a skilled Klaivesmith more than willing to lend her skill in aid of the upcoming battle.
72 hours after arriving in the Hov she was Claimed by Gabriel Eden, though initially both insisted they had no interest in serious involvements.
Rumors
---
*She was sent not to help, but to get out of the way when her former Jarl's mate became jealous.
*She shows little regret at the loss of her first Mate, Stefan.
*This is one woman who is used to getting exactly what she wants, and doesn't spare time for bullshit.
*She's the kind of "dirty hot" woman that men will leave their wives for, even just on a one night stand.
*Somehow managed to land Gabriel Eden as her mate, after only 3 days in the Hov.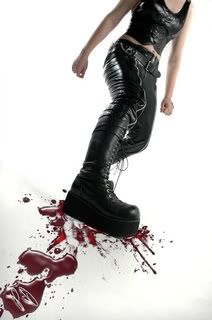 Quotes
---
*"Look, I've had a long goddamn day, and if one more person pisses me off I may just put a silver shiv somewhere the sun doesn't shine. Back the fuck off."
*"I knew the moment I saw him that I wanted him… Our only mistake was in thinking that we could be satisfied with something casual. My first Mate took a little over a Decade to convince me, Gabriel Eden needed only 72 hours."
IC Contact Info
---
She can often be found hard at work at the Forge,
or at her Mate's side.
Soundtrack
---
Garbage #1 Crush
The Replacement Killers She Makes Me Wanna Die
Godsmack Voodoo
K's Choice Not An Addict
Joi Lick
Bon Jovi You Give Love a Bad Name
Nine Inch Nails Perfect Drug
Nine Inch Nails Get Down Make Love
Seether FMLYHM
Nickelback Figured You Out
Nickelback Next Contestant
Puddle of Mud Control
Chevelle Send The Pain Below
Buck Cherry Crazy Bitch
She Wants Revenge Tear You Apart
She Wants Revenge Out of Control
A Perfect Circle The Noose
A Perfect Circle Lullaby
Aimee Mann Save Me
Three Days Grace Pain
Enrique Iglesias - Push ft. Lil Wayne
OOC Information
---
Player: Shanon
Time Zone: Um?
Location: Tulsa, OK
page revision: 15, last edited: 19 Jan 2010 19:46